About the Artist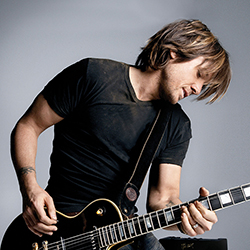 Keith Urban
http://www.keithurban.net/
At the conclusion of 2012, four-time Grammy Award winner Keith Urban celebrated two more career firsts – nominations for both a Broadcast Film Critics Award and Golden Globe Award, for his song "For You", his first track written specifically for a motion picture. In addition, he took his seat at the judges table alongside Mariah Carey, Nikki Manaj and Randy Jackson, on one of the highest rated television programs in history, FOX's American Idol.
January 2013 saw the completion of a sold-out Australian Arena tour that included multiple shows in Sydney, Brisbane and Melbourne.

This Spring will bring the release of brand new music, his fourth annual All For The Hall benefit concert for the Country Music Hall of Fame and Museum, a highly anticipated Summer Concert Tour and continued filming for American Idol. 2013 is poised to be another great year for Urban, who has already celebrated the success reserved for those driven by passion and commitment.