About the Artist
Dave Chappelle
comedycentral.com/comedians/dave-chappelle
Dave Chappelle is without a doubt one of the most distinctive voices working in comedy today. A comedian, screenwriter, television and film producer, actor and artist, Mr. Chappelle has been working in the entertainment industry since the age of 14. His 2003, boundary–bashing television series, "Chappelle's Show," catapulted the comic into international stardom. Since leaving the show, Chappelle has continued to work rooms from New York to Los Angeles and everywhere in between, often dropping in unannounced to the delight of comedy fans.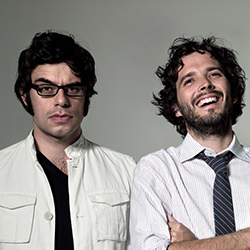 Flight Of The Conchords
flightoftheconchords.co.nz
In a buoyant career spanning almost fifteen years, Flight Of The Conchords has become one of the world's favorite comedy and musical acts. After getting their start in standup, Bret and Jemaine were launched onto the global stage with their acclaimed HBO comedy series Flight Of The Conchords. The series spanned two seasons and earned them a massive 10 Emmy Nominations and a WGA nomination for Best Comedy series. The duo have also made an impact in the film world. Bret recently took on the role of Music Supervisor for The Muppets movie and won the Best Original Song Oscar for his composition Man Or Muppet. His partner in crime, Jemaine, was featured in the hit movie Men In Black III. The duo's infectious live performances of well-known songs like "Business Time," "Too Many Dicks on the Dancefloor," and "Fashion of Danger," have made them a favorite of concert audiences all over the world.